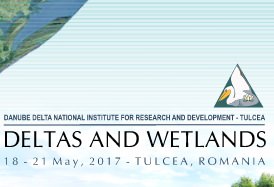 The Danube Delta Institute for Research and Development Tulcea organizes the 25th Symposium "DELTAS AND WETLANDS". The event will take place from the 18th to the 21st of May in Tulcea, Romania.
The Symposium will cover the following topics:
Section I: Biodiversity and nature conservation
Section II: Environmental factors, Ecological Restoration & Anthropic Impact
Section III: Natural Resources & Socio-economics
Section IV: GIS & Application System Modeling
Moreover during the symposium the FLOOD-serv will be presented to the attendants.
You can read more about the event here