The overall objective of FLOOD-serv is to provide a pro-active and personalized citizen-centric public service application that will encourage citizens' involvement and will  the involvement of the citizen and will harness the collaborative power of ICT networks (networks of people, knowledge and sensors) to raise awareness on flood risks and enable collective risk mitigation solutions and response actions.
The general objectives of FLOOD-serv are:
To empower local communities to directly participate in the design of emergency services dealing with mitigation actions for floods
To harness the power of new technologies, such as social media and mobile technologies, to increase the efficiency of public administrations in raising public awareness and education regarding floods risks, effects and impact
To encourage the development and implementation of long-term, cost-effective and environmentally sound mitigation actions related to floods through an ICT-enabled cooperation and collaboration of all stakeholders: government, private sector, NGOs and other civil society organizations as well as citizens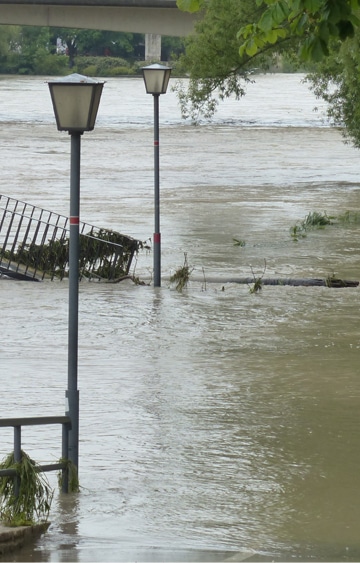 The specific objectives of FLOOD-serv are:
1. to make use of the best available data in order to identify the location and potential impacts that natural hazards as floods can have on people, property and natural environment
2. to improve the systems of warning and emergency communications
3. to provide support for the public authorities and government institutions' hazard mitigation efforts, including planning and action coordination
4. to inform the public on the risk exposure to natural hazards and how they can get prepared, respond, recover and mitigate the impacts of such events
So given the above mentioned objectives, the project will offer an opportunity for collective problem solving, knowledge sharing, social exchange and community-wide participation at local and global scale. This will lead to an insight into the information and preparedness requirements of local communities and the development of solutions adapted to the social realities.
Secondly, it will lead to a closer cooperation and coordination for flood forecasting and warning services of public institutions based on user needs.
Thirdly, based on the flood event studies, and including consultations with affected communities and other recipients of flood warnings, improved technical means of detecting the areas at imminent risk and warning more effectively, will be developed.
Technically the project will focus on developing a collaborative platform that will link citizen, public authorities and other stakeholders and on enabling the public to be warned en masse so that actions can be taken to reduce the adverse effects of the flood.