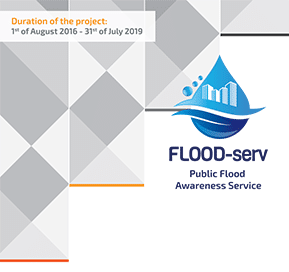 As the FLOOD-serv (Public FLOOD Emergency and Awareness SERVice) Project is coming close to its end, we have just held the final Project Conference on the 26th of June 2019, at Hotel Parliament in Bucharest. The event had around 50 participants and focused on the major theme of the Project that of flood management.
The major technical output of the project, the FLOOD-serv System, was presented and live demoed to the audience (by Mr. Pedro Leite, ANO Software; Dr. Iuliana Nichersu, Danube Delta National Institute of Research- DDNI; and Dr. Andrei Ogrezeanu, SIveco) explaining its use in case of emergencies generated by floods. The system is fully functional and contains various Components covering different areas of flood management such as: decision support, communication and input from citizens, flood data generation and analysis, etc.
In addition, of particular interest were presentations related to the process of piloting and its results held by Dr. Valentina Marin (University of Genova), Dr. Iuliana Nichersu (Danube Delta National Research Institute), , Dr. Andrei Ogrezeanu (Siveco). The FLOOD-serv Project has undergone a complex process of piloting of 6 components, in 5 European Pilot Cities (and partners to the Project: Bilbao, Bratislava, Genova, Tulcea and Vila Nova de Famalicao) with various types of users: employees of pilot cities, stakeholders, and citizens, and in 3 cycles of piloting. In all cycles of piloting diverse users were trained, and involved in the use of the System, and valuable feedback collected and analyzed. Based on the feedback from users, the System was adapted and improved. Working with end users, and especially citizens, was a particularly valuable experience for the entire project.
The Final Conference benefited of the presence of two official guest speakers. Ms. Mirela Raicu, director of the Tulcea Environmental Agency discussed the importance of flood management in the context of environmental protection. Mr. Michal Drotovan, Mayor of the City of Rača presented the needs of the City of Rača with regard to flood management and how the FLOOD-serv System can help.
The final presentation belonged to Dr. Monica Florea from Siveco, who presented possible project oportunities as continuations of the FLOOD-serv Project.