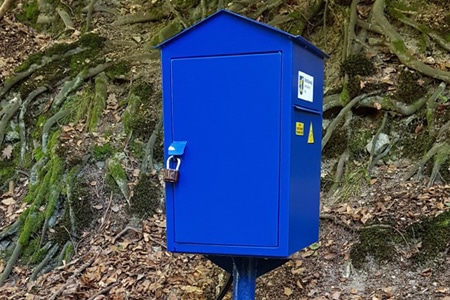 In June 2018, the Bratislava Self-Governing Region installed four sensors in the area within the frame of the EU funded project, FLOOD-serv. Two of them are located in the forests above Rača which measure the total rainfall, and the other two are water gauges that collect data from the Sand and Banská creek.
The sensors set at the Little Carpathians above Rača in Bratislava measure the amount of rainfall, the temperature of the air and the water level. The collected data can provide information about the water flow of the local creek and create an intelligent solution for improving the flood protections in the area.
These devices have their own power supply and they are independent from electric socket or solar panel. The data extracted is sent at very short intervals, which in the future will contribute to early warning of the population in the event of an imminent flood threat.
The entire system allows regular data export, based on internal algorithms, specifying the level of alert – according to the total precipitation or the level of the flood activity – according to the water level. This data can be further used for the public flood emergency and warning system as well as the assessment of the floods.
By installing these sensors, the FLOOD-serv project enters into the next phase of implementation. The pilot testing involves flood protection experts, and in the upcoming weeks, citizens of the affected areas will be involved too. The sensors have been tested in the urban part of Bratislava – Rača, which is repeatedly affected by floods. The chairman of Bratislava region Mr. Juraj Droba stated:
"The floods are one of the greatest threats to our region. Therefore, besides developing the Catalog of Adaptation Measures for Adverse Climate Impacts, we are also part of the EU funded project "Public FLOOD emergency and awareness SERvice" (FLOOD-serv). The Bratislava region is one of the five pilot regions, the results of which will be processed within the frame of the new warning flood protection system"