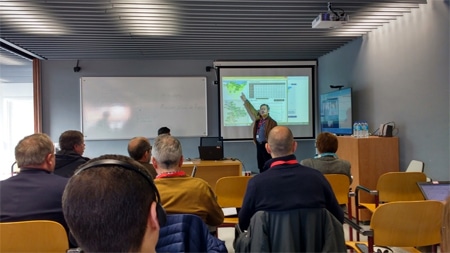 The city of Bilbao was the host for the fourth project workshop.  The FLOOD-serv project is supported by the Mayor of the City of Bilbao, Mr. Juan Mari Aburto Rique, who provided an official welcome for the project team in the Arab Hall of Bilbao City Council, while Mr. Andoni Oleagordia, director of the local Civil Protection, opened the workshop which was held on the 17th and 18th of January, 2017.
Participants saw firsthand the Bilbao use case and had the opportunity to learn about the existing solutions and technical infrastructure available in their city.  A boat trip through a number of flood susceptible areas provided a better understanding of the flood risks in Bilbao and the use case itself.
On the second day of the scheduled workshops, Cellent and Ano project partners presented a number of Live demonstrations of various technical components of the platform. The workshop ended with a discussion that outlined the technical solutions FLOOD-serv presents that will work hand in hand with the existing infrastructure of Bilbao.
In all, the main objective was the identification of the needs and requirements of the City of Bilbao and the preselection of the FLOOD-serv components for the implementation of the use case.  Thanks to the active participation and the lively discussions of the project partners ANO, Answare, Cellent, Exdwarf, Siveco and the representatives of the City of Bilbao the workshop was fruitful in succeeding this.