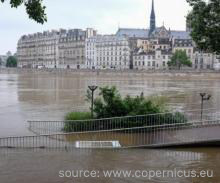 Heavy rains caused big floods in Europe from France to Ukraine, leaving 18 reported dead victims and thousands of people that needed to flee their houses.
Floods still leave governments unprepared, even though scientists and researchers regularly warn about the consequences of climate change, as there is growing likelihood that the warming climate will make bouts of flooding and other extreme weather more frequent.
The journal Nature published a report last March, saying that climate change was already driving an increase in extremes of rainfall and snowfall across most of the globe, even in arid regions, due to global warming. The study said both annual precipitation and extreme precipitation increased by 1–2% per decade in dry regions, with wet areas showing similar increases in the extent of extreme precipitation and smaller increases for annual totals.
These results are in line with conclusions done by researchers from the Potsdam Institute for Climate Impact Research (PIK) in Germany, which found that global warming has increased the number of record-breaking rainfall events. From 1980 to 2010 there were 12% more of climate and weather related extreme events than would be expected in climate without global warming. In the last year of the study, there was an increase rose to 26%.
Source: www.copernicus.eu